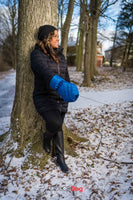 Never freeze your leash holding hand again!
As a full-time dog mom with a busy schedule, I always found myself forgetting my gloves at home on dog walks. My poor hands would then suffer through the chilly walk, doing the all too familiar "leash shuffle", constantly switching to try and salvage some feeling in my fingers. When it came time to open poop bags, it was game over. Poop bags always won the battle versus my frozen hands. 
This is where the idea for the Leash Mitten came in. Once the weather begins to cool down, I keep my leash in the mitten ready for any walk. This way even when I am in a rush, my hand is covered throughout the cold Canadian (seemingly endless) winter months. This mitten has made my winter dog walks more fun, adventurous and enjoyable! 
So, what are you waiting for? Save your fingers and grab your very own Leash Mitten for the winter!